Game Creation Contest
Big video game contest organised by MAGIC.
For the third time, MAGIC comes back with a unique video game contest.
As you probably already figured out, at Shibuya Productions  we are truly passionate about video games.
We believe that many current video game productions are too focused on esthetic and often have lacked of a truly interesting and exciting game-play.
For us game-play is a fundamental part of enjoyable gaming. We can't help thinking about the old days when, not matter what the game, console, computer or arcade, we could play it over and over again, and still enjoy it every time.
Our goal is to encourage those SPECIAL FEW who put game-play in the center of their game creations.
The MAGIC Edition 2017 program:
11am  Presentation of the ENTERRE MOI, MON AMOUR project
11:45am Presentation of the ONIRI ISLANDS project
2pm  Presentation of the SKYBOLT ZACK project
2:45pm  Presentation of the HELLO WORLD project
3:30pm  Presentation of the FRESCO project
4:15pm J udging Panel Committee Evaluation
6:50pm Game Creation Contest final winner announcement in the Camille Blanc Room
with panel of judges Michel Ancel, Giancarlo A. Mori and David Hart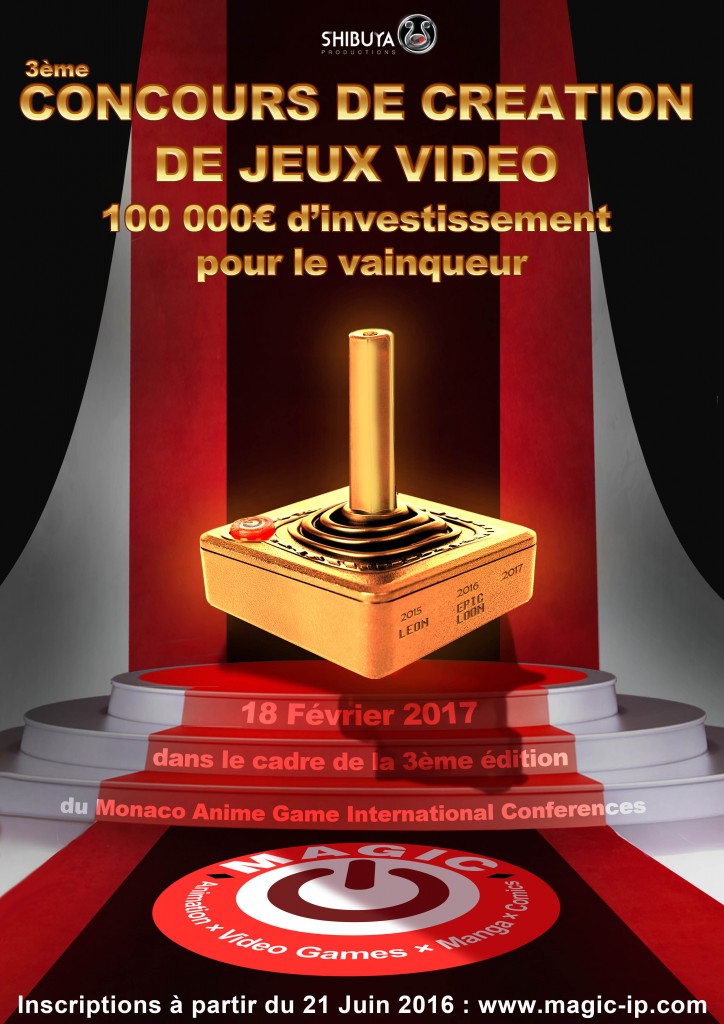 If you want to participate to the contest, please fill out the form here and download the regulations HERE.
The contest will be held in the following format:
From 21th June to 1st October, 2016 : Registration

1st December, 2016 : Submission deadline

18th January, 2017 : Announcement of selected projects

18th February, 2017 : Jury deliberation and winner announcement

Registration for the event
MAGIC#3 will happen on February 18th 2017 in the Grimaldi Forum Monaco! Registrations are closed!
Official partners
Editorial
Cédric Biscay

It is a great honour for Shibuya Productions to announce the third Edition of Monaco Anime Game International Conferences (MAGIC) taking place next 18h February in Monaco's Grimaldi Forum. Being myself a fan of mangas, video games, animation and comics, I just wanted to share those passions with people who love those worlds by bringing them some of the greatest artists from around the world.

Read more...