Presentation
Monaco Anime Game International Conferences (MAGIC) is an open event organised by Shibuya Productions in Monte Carlo's Grimaldi Forum.
The last edition happened on February 27th 2016.
And the next will be on February 18th 2017 !
The one-day event is dedicated to several worlds – manga, comics, animation, video games and pop culture.
MAGIC offers various conferences and round-table debates with famous international game designers, producers, scriptwriters and illustrators in full interaction with the audience.
MAGIC also includes a cosplay show and cosplay contest organised, in the presence of some of the greatest performers – the Magic International Cosplay Masters.
MAGIC is also the initiator of a big and unique video game contest, rewarding the winner with a 100,000 Euros cash prize to be invested in their project.
MAGIC is, finally, the initiator of a big and unique manga contest in partnership with SHUEISHA and in collaboration with Shibuya International.
In short, it's all about meeting, greeting and sharing!
Next edition on February 18th 2017 in the Grimaldi Forum in Monaco!
The place
MAGIC takes place a prestigious venue – Grimaldi Forum in the heart of the Principality of Monaco.
Conferences and shows will happen in the Auditorium Prince Pierre room with an 800-seat capacity.
Presentation to the jury of the selected candidates for the video game contest will take place in the Van Dongen open room, with an approximate capacity of 200 seats.
The Grimaldi Forum is above all a unique place in the heart of a beautiful place. This smart, bright high-tech conference centre, is capable of shaping according to the events it is hosting, taking them to the next level.
Located on the shores of the Mediterranean, in straight connection with all major European capitals via Nice Côte d'Azur airport only 22km away, Grimaldi Forum offers a 35,000 Sq m area for more smoothness and creativity.
Grimaldi Forum's renown experience in hosting international events made it a key destination for international business tourism.
Boasting a massive 10,000 Sq m of exposition surface area, 3 auditoriums, 22 meeting rooms, 2 restaurant areas, Grimaldi Forum Monaco is the stage of all types of business events: Seminar, congress, convention, exhibition, product launch or gala dinner and big shows take place simultaneously in customized areas.
MONACO, the place where nothing is impossible
A stay in the Principality of Monaco is always a great time – historical legacy, beautiful wheather, typical way of life, amazing buildings… Mediterranean culture meets international globalised culture. In the very heart of Europe, Monaco offers a total escape, a dream-destination to enjoy early spring sun.
During this special day, MAGIC brings together the greatest names from the video game industry, animation and manga.
Forum Grimaldi à MONACO
10, Avenue Princesse Grace – MC 98000 Monaco
http://www.grimaldiforum.com/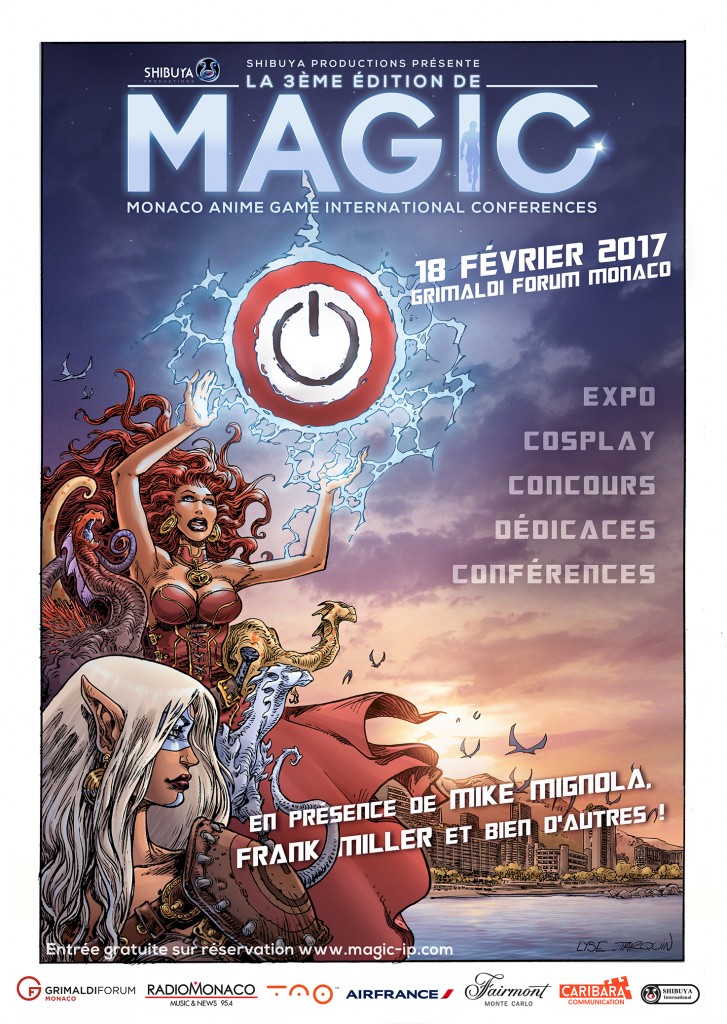 Registration for the event
MAGIC#3 will happen on February 18th 2017 in the Grimaldi Forum Monaco! Registrations are closed!
Official partners
Editorial
Cédric Biscay

It is a great honour for Shibuya Productions to announce the third Edition of Monaco Anime Game International Conferences (MAGIC) taking place next 18h February in Monaco's Grimaldi Forum. Being myself a fan of mangas, video games, animation and comics, I just wanted to share those passions with people who love those worlds by bringing them some of the greatest artists from around the world.

Read more...