Subscribe to Video Game contest
The contest registration is now open!
As you probably already figured out, at Shibuya Productions we are truly passionate about video games.
We believe that many current video game productions are too focused on aesthetics and often lack truly interesting and exciting gameplay.
For us gameplay is a fundamental part of enjoyable gaming. We can't help thinking about the old days when, no matter what the game, console, computer or arcade, one could play it over and over again, and still enjoy it every time.
Our goal is to encourage those SPECIAL FEW who put gameplay in the center of their game creations.
If you want to participate in the contest, please fill out the Application Form and provide the materials it sets out HERE
For any question, please contact gamecontest@magic-ip.com
Relevant dates are:
Registration: 19 June 2018
Last day for mail receipt of applications: 19 November 2018
Announcement of projects for final selection at MAGIC: 8 February 2019
Jury Deliberation and Selection of Winner at MAGIC: 9 March 2019
Good luck !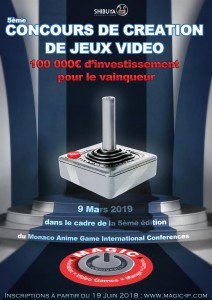 Registration for the event
MAGIC is a private event organized by Shibuya Productions. The entrance is free of charge and requires prior registration. The organization reserves the right to deny anyone entry to the event at their discretion.
Editorial
Cédric Biscay

C'est un grand honneur pour Shibuya Productions d'annoncer la 4ème édition du Monaco Anime Game International Conferences (MAGIC) qui aura lieu le 24 février prochain au Grimaldi Forum. En tant qu'amateur de mangas, de jeux vidéo, d'animation et de comics, je souhaite partager ces passions auprès d'un public amoureux de ces univers en sollicitant les plus grands artistes internationaux.

Read more...