Practical information
Grimaldi Forum  in Monaco
10, Avenue Princesse Grace – MC 98000 Monaco
http://www.grimaldiforum.com/
Grimaldi Forum Monaco, built seaside next to the Japanese Garden, is located in the Larvotto district (East of the Principality).
Schedules: 9am to 7pm
Tickets
MAGIC is free to all the visitors.
To benefit from this very special offer, you simply need to fill the registration form.
Those who are no registered may not have access to the event as participant number is limited.
How to come to MAGIC ?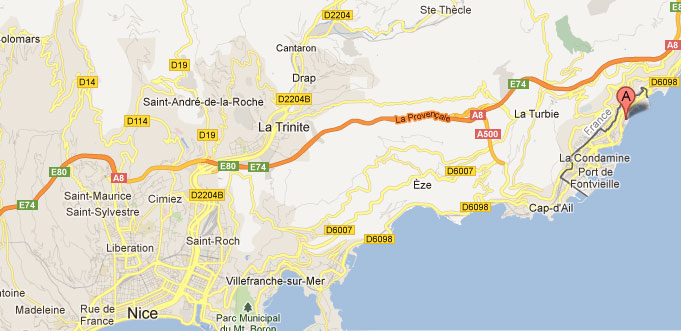 > By bus
---
A bus line circulates between Menton and Nice, serving Monaco in both ways (Line 100). Ticket is only €1.
Detailed information about all bus lines in the area under link below:
http://www.rca.tm.fr/horaires/index.asp?thm_id=259&lign_id=41
A bus stop is located right in front of Grimaldi Forum and this bus serves all hotels. Information about lines and prices here: http://www.cam.mc/
> By train
---
Details about train schedules and prices here: www.voyages-sncf.com
The Monaco Monte Carlo train station is about 15 minutes walk away from Grimaldi Forum.
Take the station's underground path to the harbour and arrive on Boulevard Albert 1er/Avenue d'Ostende.
Follow the "Princess Antoinette" stop where a cash dispenser can be found. From that point, you have two options:
Taking line 6 (green) to Larvotto and getting off to the "Grimaldi Forum Villa Sauber" stop.
Taking line 1 (red) to Saint Roman, getting off to "Portier"stop and then go through the Japanese Garden or follow Avenue Princesse Grace.
Two prices apply – tickets sold in the bus (€2) and those sold in the ticket dispenser (€1.50)
Information and prices here: http://www.cam.mc/
> By plane
---
Grimaldi Forum Monaco is 25km from the Nice Côte D'Azur International airport and links the main European capitals and international cities.
Bus line 110 connects the airport to Monaco for a much cheaper cost than taxis.
Departure every 30 minutes.
For further information about prices and schedules, please visit: http://www.niceairportxpress.com/.
> By car
---
Driving to Monaco is easy via the A8 highway ("Monaco" exit).
Moreover, thanks to the speedway, you can reach the highway and the Nice airport in only 5 minutes drive from Monaco.
A public parking of 600 spaces including a space for a bus is available under Grimaldi Forum Monaco. Further information here: www.monaco-parkings.mc
> Accomodation
---
Here are links to help you find a hotel.
For further information, please visit the website of the tourist office in Monaco:
http://www.monte-carlo.mc/fr/visites/office-tourisme-monaco/
Registration for the event
MAGIC#3 will happen on February 18th 2017 in the Grimaldi Forum Monaco! Registrations are closed!
Official partners
Editorial
Cédric Biscay

It is a great honour for Shibuya Productions to announce the third Edition of Monaco Anime Game International Conferences (MAGIC) taking place next 18h February in Monaco's Grimaldi Forum. Being myself a fan of mangas, video games, animation and comics, I just wanted to share those passions with people who love those worlds by bringing them some of the greatest artists from around the world.

Read more...