CRAZY DREAMZ, VIDEO GAME CONTEST 2018 WINNER !
We are pleased to announce the winner's name of the MAGIC 2018 video game contest : Crazy Dreamz, winner of the 100 000€ investment prize from Shibuya Productions!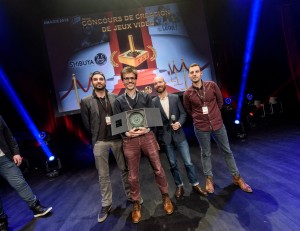 What's Crazy Dreamz : MagiCats Edition ?
It's a Sandbox Platformer allowing to create without limit. You can create your own levels – mischievious, hilarious or enigmatic – and improve them with a powerful and accessible tool : coding !
Between a sandbox platformer and level editor, Crazy Dreamz invites you in an inspiring trip in a world of creation and where your imagination is your only limit. Create, play, share et become the most respected of all MagiCats!
The team is composed of : Stéphane Clotilde (CTO), Thibault Louis-Lucas (CEO), Camille Ferandou (CPO), Guillaume Cazelles (Producer), Benjamin Tran and Lucas Morance (Developpers).
More infos to come about the game's release!
L'iscrizione alla manifestazione
Les inscriptions sont terminées.

The registrations are closed.

You can still come to the front desk if the maximum capacity is not reached.
Editoriale
Cédric Biscay

What an honor for Shibuya Productions to celebrate the fifth anniversary of our event the Monaco Anime Game International Conferences (MAGIC) on the 9th of March.

Who could have believed, that a Gala Dinner, which was initially organized to celebrate the creation of the company, was going to transform into an inevitable yearly pop culture event in the Principality of Monaco.

Who would have thought that after only 4 years, MAGIC will be exported to Japan, in Kyoto, Japanese culture's heart.