Manga Contest
Shibuya Productions and SHUEISHA Inc. are sponsoring a manga creation contest as part of the Monaco Anime Game International Conferences (MAGIC) in partnership with Shibuya International.
Here are our 5 finalists:
10am Presentation of the DREAM MAKER project
10:45am Presentation of the BIG BURGER BOY project
11:30am Presentation of the NAKO project
2pm Presentation of the RUNTIME project
2:45pm Presentation of the ROYAL MAGIC GALA project
3:30pm Judging Panel Committee Evaluation
6:50pm MAGIC INTERNATIONAL MANGA CONTEST final winner announcement in the Camille Blanc room
With panel of judges Hiroyuki Nakano, Shuhei Hosono, Hervé Trouillet and Sahé Cibot
The Jury of the final will select a Winner and his Dauphin:
– the Dauphin will receive a certificate of participation as a finalist and his work will be published on the Shônen Jump + website
– The Winner will receive a certificate of first prize and his work will be published on Shônen Jump +.
Shibuya Productions will also offer him a one-month stay in Japan (including one-way economy airfare for one person, transportation between the airport and the accommodation, accommodation in Tokyo for one person ). During this stay, the Winner will meet a tanto (publisher) from Shueisha and will have the opportunity to meet a mangaka but also to try his luck to continue the adventure with this editor for a year!
Back to our previous winners:
We are happy and proud to announce that Hyper Shiritori by vinhnyu, MAGIC 2017 manga contest big winner is now on Shônen Jump + !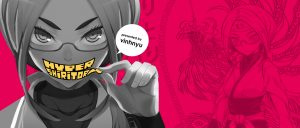 The Witcher in the City by Dhafer, the runner-up, is also available since april.
Registration is open !

Entry forms should be submitted by email to mangacontest@magic-ip.com, along with a scanned image file of these signed terms and conditions and a link to a server where we can download your full work.
Schedule:
For reasons beyond control, Shibuya Productions may have to modify this schedule – any change will be announced on the magic-ip.com website which participants are advised to visit on a regular basis, as well as by email, 15 days to the event at the latest.
Important dates:
30th May 2017- Registration start date; Story submission open
1st October 2017 – Last day to register
15th October 2017 – Final deadline for story submission;
All stories submitted after 15th October 2017 at 12:00 am CET will be rejected.
16th October – 30th October 2017 – Shortlist of 10 stories selected by the shortlisting panel judges
7th November 2017 – Announcement of the selected stories
8th November 2016 – 10th December 2017 – Translation of the selected 10 stories into Japanese
10th December 2017 – Submission to SHUEISHA Inc.
Tuesday, 16th January 2018 – Announcement of the 5 finalists
24th February 2018 – Deliberations of the judges in the presence of the selected artists to determine the winner and runner-up.
Do you want to register ? Download Terms and Conditions HERE

To be valid, these have to be initialled and signed!
To see the template, please click HERE.
Registration for the event
MAGIC#4 will take place the 24th february 2018 at Grimaldi Forum. Registration is finished.
Editorial
Cédric Biscay

C'est un grand honneur pour Shibuya Productions d'annoncer la 4ème édition du Monaco Anime Game International Conferences (MAGIC) qui aura lieu le 24 février prochain au Grimaldi Forum. En tant qu'amateur de mangas, de jeux vidéo, d'animation et de comics, je souhaite partager ces passions auprès d'un public amoureux de ces univers en sollicitant les plus grands artistes internationaux.

Read more...