NadiaSK
NadiaSK is an italian cosplayer since 2004. Winner of the Italian selection of WCS 2008, ECG 2012 (3° price) and WCS2014 (2° price and Live Dam Price as best performance) is often invited as guest star in foreign convention.
She will perform at our MAGIC 2016 cosplay contest among 17 other performers !
To see her work, click HERE.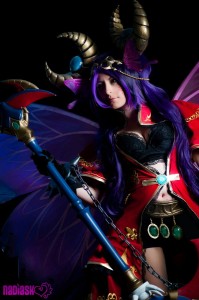 Copyright: Matteo Arienti
Registration for the event
Les inscriptions pour MAGIC 2022 vont ouvrir prochainement.
Editorial
Cédric Biscay

What an honor for Shibuya Productions to celebrate the seventh anniversary of our event the Monaco Anime Game International Conferences (MAGIC) on February 26 and 27, 2022.

Who could have believed, that a Gala Dinner, which was initially organized to celebrate the creation of the company, was going to transform into an inevitable yearly pop culture event in the Principality of Monaco.

 Who would have thought that after only 4 years, MAGIC will be exported to Japan, in Kyoto, Japanese culture's heart.