MAGIC INTERNATIONAL MANGA CONTEST: Winners announced on Shônen Jump+!
The manga RUNTIME, winner of the international manga competition organized during MAGIC 2018 in Monaco, and two other works unveiled on Shônen Jump +!
On February 24, 2018 was held the fourth edition of the Monaco Anime Game International Conferences (MAGIC). This is where the final of the international manga competition, co-organized by Shibuya Productions and Shueisha / Shônen Jump, in collaboration with Shibuya International, took place.
From the comments of the mangaka Tite Kubo (BLEACH), president of the jury, and meetings with the last candidates in the running, the jury chose the following three works:
Great prize : RUNTIME by Joanne Kim (USA)

©Joanne KIM/Shibuya Productions/Shueisha

A word from Tite Kubo to the winner:
Congratulations for the great prize!
Your drawing style is very good and very persuasive.
For the future, take into account the reader's point of view to developp your story: it will help you progress event faster.
Jury's favorite: Nako by Tiers Monde and Max (France)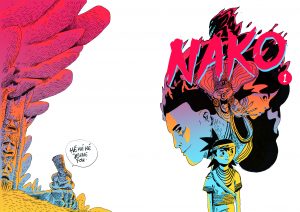 ©Tiers Monde/Max/Shibuya Productions/Shueisha
RUNTIME is online since saturday 24th march and the tow other works arrive on the 28th on Shônen Jump+ ! : HERE
The original version is following the Japanese one!
The MAGIC manga contest
Competition co-organized by Shônen Jump and Shônen Jump+ at Shueisha and Shibuya Productions, in partnership with Shibuya International for coordination between Europe and Japan.
Jury members:
– Tite Kubo (BLEACH)
– Hiroyuki Nakano, editor of Shônen Jump (Shueisha)
– Shûhei Hosono, editor of Shônen Jump + (Shueisha)
– Cédric Biscay, President and CEO of Shibuya Productions, representative of MAGIC
– Hervé Trouillet, Artistic Director of Shibuya Productions
– Sahé Cibot, Executive Director of Shibuya International
Candidates from all around the world participated.
Winners : 
Joanne Kim
Joanne Kim is a full-time student, but she is also a self-taught artist, an EDM (Electronic Dance Music) lover. In terms of manga creation, she mostly drew "Pokemon comics", as well as fan arts series she loves. Her parents don't encourage her in this passion, she drew in secret for many years. But things have changed for her and she now enjoys more freedom and parental support, as they have realized that drawing allows her to flourish and be happy. She hopes to create a manga or a project that will inspire her readers and motivate them to create their own work (s).
Her favorite manga (right now): My Hero Academia
A word from Joanne Kim :
« It's an honor for me to have won the first prize at the MAGIC International Manga Competition this year! I still do not quite realize what happened and I feel like it was a dream because everything went fast. I was extremely nervous when I introduced my manga to the members of the jury, including Mr. Nakano and Mr. Hosono, because I was scared of the scene and I did not feel mentally ready.
I shed a lot of tears (of joy!) And it was a really great experience for me … Thanks again to MAGIC for this unforgettable experience and the opportunity to realize my dream with my manga RUNTIME! I'm going to work hard to make it a manga that is enjoyable for readers to read and successful! »
Leïla BENSAID
Leïla Bensaid (27) is currently part of the DreaMaker, group of three artists and friends: Bun, Momo and herself, under the artist name Zilo.
After a typical student path until obtaining a baccalaureate L, followed by a year of bachelor's degree in Japanese, she started arts studies for two years in Paris and made her third year in Japan at "Ôgaki women college "located in Gifu prefecture.
Once graduated, she returns to France to repay her student loan. In parallel with her job, she continues to be an exhibitor with DreaMaker, she creates her first online webcomics on Tapastic, to work on traditional and digital, and she participates in various competitions.
In 2013, she won the "Young Creator Illustration Award" of the illustration contest of the Japan Touch, judged by Ken Niimura. In 2015, she won the third place in the Alys contest organized by Clairefontaine, Manga Ink and Voxwave. His passion for music, animated films, horror and fantasy films, as well as video games continue to feed her different worlds.
 A word from Leïla Bensaid :
« This is the first time I participate to MAGIC. I was very excited to see the jury members names of the manga contest despite the doubt that invaded me. But neither one or two, I took my courage with both hands and I launched, encouraged by my friends: "who does not try anything has nothing". I'm happy to have come so far in this contest and my world has been enjoyed.
My only regret is to have not been able to meet Tite Kubo, but it was offset by his comments, those of Mr. Hosono, Mr. Nakano and members of Shibuya Productions who were very welcoming and caring. An enriching experience that will allow me, I hope, to continue in the path of drawing. »
Team Nako
Tiers monde and Max
With more than three albums, Tiers Monde is a safe bet of French hip-hop. He did more than 300 concerts, including several at the Zenith and one at the Olympia. But it's not his only job: screenwriter in various music videos (Medine, Brav, Alivor) in addition to his own, his passion for manga and Japan encourage him to write his own shonen … He meets Max and entrust him with his last album's design "No Future".  Originally trained in traditional cartoons, Max is quickly passionate about storyboarding and character design. It is finally far from there that he will makes his weapons, merging the drawing of the press with his other passion: rap, while drawing, and having fun of the rap news for the media web Booska-P. In parallel, he collaborates with various artists of the French rap scene and as a graphic designer and illustrator for their musical projects.
Following their meeting, Tiers Monde and Max multiply collaborations, which reinforces their complicity and their artistic affinities. Tiers Monde then proposes several stories to adapt in Manga, they will choose Nako and will embark on this great project …
A word from Tiers Monde:
« Honored and very happy to have been consecrated  Jury's Favorite at the Magic 2018.
This is our first Manga,
We still haven't realized that we are going to be published inside the legendary Jump+ alongside these prestigious licenses.
Thanks to the MAGIC teams for making this possible. »
Registration for the event
MAGIC#4 will take place the 24th february 2018 at Grimaldi Forum. Registration is finished.
Editorial
Cédric Biscay

C'est un grand honneur pour Shibuya Productions d'annoncer la 4ème édition du Monaco Anime Game International Conferences (MAGIC) qui aura lieu le 24 février prochain au Grimaldi Forum. En tant qu'amateur de mangas, de jeux vidéo, d'animation et de comics, je souhaite partager ces passions auprès d'un public amoureux de ces univers en sollicitant les plus grands artistes internationaux.

Read more...