NOVITÀ
Launching of the big MAGIC manga contest !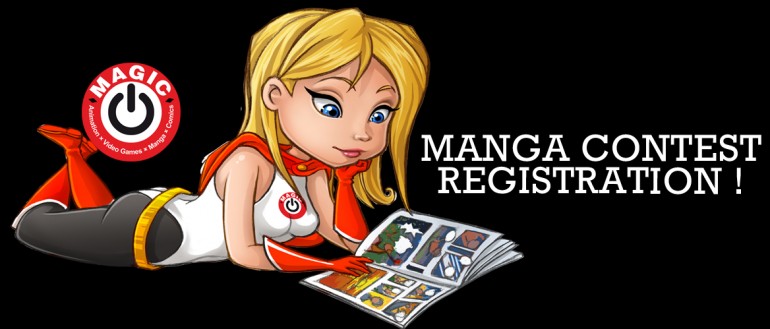 Shibuya Productions et SHUEISHA lancent, en collaboration avec Shibuya International, un grand concours de manga en vue de La prochaine édition du Monaco Anime Game International Conferences !
Les inscriptions à ce concours d'exception sont désormais ouvertes.
Les dossiers de participation doivent être envoyés par mail à l'adresse courriel mangacontest@magic-ip.com, accompagnés d'un scan du règlement signé et d'un lien nous dirigeant vers un serveur qui nous donnera accès facilement à l'ensemble de votre œuvre.
Jury de pré-sélection :
Mme Sahé CIBOT (Directrice Générale de Shibuya International)
M. Hervé TROUILLET (Directeur Artistique de Shibuya Productions)
M. Cédric BISCAY (Président de Shibuya Productions et organisateur du festival MAGIC)
D'autres membres sont susceptibles de se joindre à ce Jury, et seront annoncés sur le site du MAGIC.
Jury de sélection finale:
M. Yoshihisa HEISHI (Rédacteur en Chef de Shônen Jump)
M. Shuhei HOSONO (Assistant rédacteur en chef de Shônen Jump et responsable du site Shônen Jump +)
un mangaka de SHUEISHA Inc.
Mme Sahé CIBOT (Directrice Générale de Shibuya International)
M. Hervé TROUILLET (Directeur Artistique de Shibuya Productions)
Calendrier :
Pour des raisons indépendantes de sa volonté, Shibuya Productions peut être contraint de modifier ce calendrier : toute modification sera annoncée sur le site internet magic-ip.com, sur lequel les candidats sont invités à se rendre régulièrement, ainsi que par mail, au plus tard 15 jours avant l'événement.
Le concours se déroulera selon le format suivant :
Du 04 avril au 15 septembre 2016 – Inscriptions et envoi des planches
30 septembre 2016 – Deadline pour l'envoi des planches – Tous les dossiers envoyés après le 30 septembre 2016 à minuit seront refusés.
Du 1er au 30 octobre 2016 – Pré-sélection de 10 histoires par le jury de pré-sélection
Mardi 07/11/2016 – Annonce des histoires sélectionnées
Du 08 novembre au 10 janvier 2016 – traduction en japonais des 10 histoires sélectionnées
10 janvier 2017 – Transmission à SHUEISHA Inc.
Premier trimestre 2017 – Délibération du jury en présence des sélectionnés afin de déterminer un Gagnant et son Dauphin.
Vous souhaitez vous inscrire ? Téléchargez le règlement ICI.
L'iscrizione alla manifestazione
We inform you that the registration is closed from Friday Feburary 26th at 8 am French Time.
Those who did not get the chance to register, do not hesitate to come at the entrance on February 27th, but we cannot guarantee that you will enter the event.
Thank you for your understanding.
Editoriale
Cédric Biscay

C'est un grand honneur pour Shibuya Productions d'annoncer la 2ème édition du Monaco Anime Game International Conferences (MAGIC) qui aura lieu le 27 février prochain au Grimaldi Forum. En tant qu'amateur de mangas, de jeux vidéo, d'animation et de comics, je souhaitais partager ces passions auprès d'un public amoureux de ces univers en sollicitant les plus grands artistes internationaux.

Leggere il seguito