EXHIBITION AREA
MAGIC is happy to offer to its visitors an Exhibition area including several partners.
In 2019, we will have the chance to welcome :
Activbody, Official partner and an American company specialized in fitness and health technologies
Alfa BD, Library
League Of Replica, French craftsmen specialized in costume design
The Art of Anime, Exhibition relating the history of the Japanese cartoon
Salut un café, Coffee shop
Nous sommes des héros, high-end jewelry brand inspired by superheroes
Shibuya Productions, Producer of animated films and video games and organizer of Monaco Anime Game International Conferences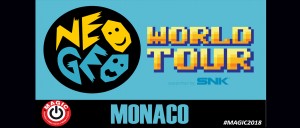 L'iscrizione alla manifestazione
MAGIC è un evento privato organizzato da Shibuya Productions. L'ingresso è gratuito e su registrazione. Tuttavia l'organizzazione si riserva il diritto di declinare l'ingresso senza alcuna giustificazione.
Editoriale
Cédric Biscay

What an honor for Shibuya Productions to celebrate the fifth anniversary of our event the Monaco Anime Game International Conferences (MAGIC) on the 9th of March.

Who could have believed, that a Gala Dinner, which was initially organized to celebrate the creation of the company, was going to transform into an inevitable yearly pop culture event in the Principality of Monaco.

Who would have thought that after only 4 years, MAGIC will be exported to Japan, in Kyoto, Japanese culture's heart.