Magic 2021 postponed to 2022
Hello everyone,

This is normally a period in which we should be communicating about MAGIC 2021.
The 2020 experience has taught us to be very cautious, we gave ourselves until Monday, November 23rd to make a final decision regarding this new edition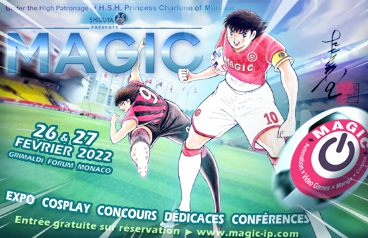 You know how important it is for us, for our guests as well as for you, to have an anticipated and precise organization.
Our experience has taught us, that it is only under these conditions that the magic of this event can be achieved.
COVID 19 is a challenge for our entire company and despite our ability to anticipate, international flights and the possibilities of welcoming our prestigious guests remain uncertain.
Our event is being prepared many months in advance and we were preparing for the 2021 edition until now. The uncertainty is still well beyond our control, making it difficult to plan ahead for February, giving the serenity and professionalism that a MAGIC requires.
Many people opt for virtual events, and while we can understand this, we can't solve it.
MAGIC is a unique moment, deliberately chosen on a human scale, where our audience can meet their mentors/idols, and our stars can count on their fans.
A place where our precious partners as well as the public, have the right to expect the quality and ambition that a MAGIC represents.
The Shibuya Productions team has therefore decided to focus on anticipation, more than ever in this particular unclear context, in order to keep its values. This is why we announce that the next edition of MAGIC Monaco will be held on February 26th and 27th, 2022, as usual at the Grimaldi Forum.
Our guests have already let us know that they will be among us throughout this new edition. We would like to thank them for their great reactivity and their unfailing support.
We will be adding new guests so that we can prepare a great celebration all together.
This second postponement of the MAGIC does not mean that we will not see each other again until then, we are working on a still top-secret concept, which should make quite a lot of noise!
We will probably organize a live FB in the next few weeks in order to inform you.
It's been two half-times that Captain Tsubasa has been waiting on this poster, so for the first time in soccer, we're actually going to play a third half.
See you soon!
MAGIC Team
Registration for the event
Les inscriptions pour MAGIC 2022 vont ouvrir prochainement.
Editorial
Cédric Biscay

What an honor for Shibuya Productions to celebrate the seventh anniversary of our event the Monaco Anime Game International Conferences (MAGIC) on February 26 and 27, 2022.

Who could have believed, that a Gala Dinner, which was initially organized to celebrate the creation of the company, was going to transform into an inevitable yearly pop culture event in the Principality of Monaco.

 Who would have thought that after only 4 years, MAGIC will be exported to Japan, in Kyoto, Japanese culture's heart.