Discover the 10 preselected projects for our MAGIC International Manga Contest 2018
We are very happy to announce the 10 preselected projects for our MAGIC International Manga Contest 2018: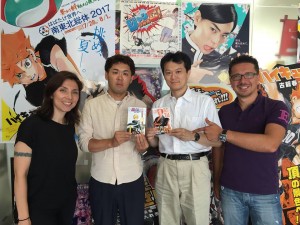 Dylan Maldonado – Strange Raven
Fabien Ronteix – Little Humanus
Jasmin Puschacher – Claws
Kim Joanne – Runtime (Merged)
Leïla Bensaïd – Dream Maker – The Artist
Mamadou Dieng – Nako
Maria Enjelia Villanueva –  Royal Magic Gala
Ornella Schvartz – Noctalis
Yoann Vornière – Big Burger Boy
Alice Barnes –  Clean Sweep
Congratulations to all our preselected applicants and a warm thank you to all the participants.
The winner will have the opportunity to stay one month in Japan , meet a tantô ( publisher) from Shueisha, work with a mangaka and get the opportunity to extend their partnership with this publisher for one extra year !
Registration for the event
MAGIC is a private event organized by Shibuya Productions. The entrance is free of charge and requires prior registration. The organization reserves the right to deny anyone entry to the event at their discretion.
Editorial
Cédric Biscay

What an honor for Shibuya Productions to celebrate the fifth anniversary of our event the Monaco Anime Game International Conferences (MAGIC) on the 9th of March.

Who could have believed, that a Gala Dinner, which was initially organized to celebrate the creation of the company, was going to transform into an inevitable yearly pop culture event in the Principality of Monaco.

 Who would have thought that after only 4 years, MAGIC will be exported to Japan, in Kyoto, Japanese culture's heart.